The Open Mess provided a nice place to spend your free time (and money too!) enjoying the company of the other Airmen, Seamen and Civilians at H-3. Many times we signed in guests who appreciated a cool drink after their workday ended. These were some of the local Icelandics who worked in the Building Maintenance and Facilities section. At the "Club" we were all pretty much equal.
Shown here, courtesy of MSgt. Barnette, is one such group of friends.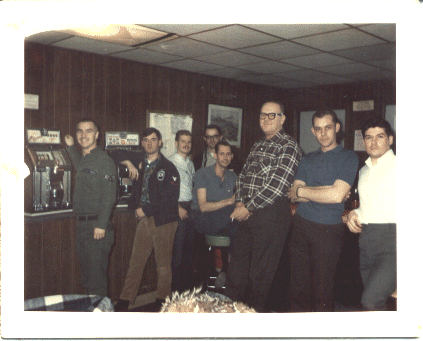 Shown here, seated in the middle is MSgt. Spears T. "Barney' Barnette.
Behind Barney is Marty Martin while TSgt. Pauley is to Barney's right. SSgt. Smith is next to TSgt. Pauley. Unfortunately time has erased the names of the others in the picture. You may notice the 667th Patch (USAF) on the jacket of the Seaman leaning on the slot machine.